SPEAK WITH US
Monday - Friday 9:00 to 18:00
Enquiries: +65 6778.8002
Support: +65 6778.6355

SEND US AN EMAIL
To arrange an evaluation, discussion or a live, interractive demonstration.
Please use our enquiry form
The Manufacturing Black Hole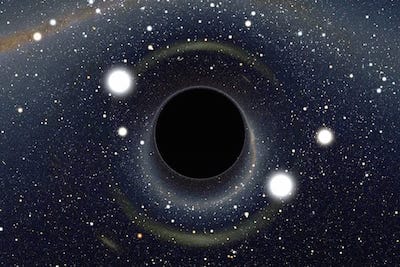 This is where the order leaves the back-office preperation and planning stage and enters the manufacturing production shop floor.
In many busineses, it is at this point that the customer order disappears into a manufacturing black-hole, and from here on there is very poor visibility of progress or status, and little or no feedback received until it miraculously emerges as a finished item.
Often the only way to know the status or progress of a job when a customer enquires, is to walk down to the shopfloor and try to locate the physical job and speak to the person who is working on it.
PURE Manufacturing software eliminates this black-hole by utilising closed-loop feedback, where each step of the manufacturing process is tracked and recorded as it occurs using wall mounted, rugged touch screens.
Paperless or Barcode Tracking
With Pure Manufacturing software, work order tracking (WIP tracking) can be performed using either a paper-less or a paper-based barcode tracking method.
Paper-less tracking lets operators select from a prioritised task list on the touch screens previously allocated to them using the Job-Allocation feature above.
With paper-based wip tracking, a printed Work Order Traveller or Job-Card, identifies the physical job and travels with it as it progresses through each production processes.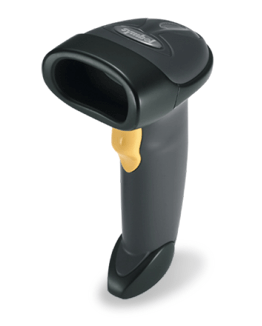 The Traveller format is fully customisable and shows the detailed production routing, work instructions and other information defined earlier using the Job-Manager.
The Traveller also uses barcode tracking which is used to accurately identify a work-order operation when starting or ending a task during the shopfloor control data collection stage.
Operator Job Allocation
The Job-Allocation screen enables production supervisors to assign and queue production jobs to machine operators within their section using simple drag and drop.
A single job process may be assigned to just one operator, or to multiple operators, and one operator may be assigned multiple concurrent processes.
When the user is ready to start a new activity using the touch screen, they are guided to select the next task in their individual job queue.
Wall-Mounted Touch Screen Kiosks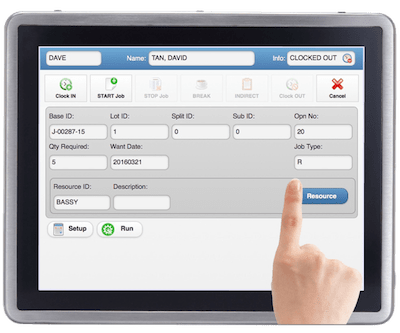 Using rugged, wall-mounted touch-screen kiosks convieniently located around the shopfloor, production operators account for the time they spend on direct and indirect activities.
Like a bank's ATM machine, our touch screen kiosks are highly intuitive and fast & simple to operate, with just a single press to power on and off the device.
Users are interactively guided through the clocking procedures in just a few seconds thereby improving productivity and enabling them to focus most of their time on real work rather than on data collection tasks.
When completing any process, the operator is prompted to enter the good quantity and the bad quantity, and can optionally select deviation reason codes to classify the type of defects for further analysis and reporting.
Indirect activities like tea and lunch breaks, meetings and machine cleaning tasks are also captured offering a complete record of hours spent by each production operator in any given day.