SPEAK WITH US
Monday - Friday 9:00 to 18:00
Enquiries: +65 6778.8002
Support: +65 6778.6355

SEND US AN EMAIL
To arrange an evaluation, discussion or a live, interractive demonstration.
Please use our enquiry form
Singapore's SME Industry 4.0 Specialists
With a successful track record spanning three decades in Singapore, DiS specialise in Industry 4 / M.E.S integrated ERP manufacturing and Q.M.S productivity cloud and on-premise customisable software for the small to midsize SME manufacturer.
Your manufacturing shop-floor is the beating heart of your manufacturing business, and your ability to produce the highest quality products in the shortest possible lead-time and at the lowest possible cost, is key to your company's success, profitability and growth.
If you are looking for software to boost Productivity, Utilisation, Efficiency, Throughput and Profit, then you Pure Manufacturing is the answer. Our cloud manufacturing software focuses on optimising the efficiency of your production operations.
What is ERP Software
Many businesses invest in expensive, big-name E.R.P software expecting it to integrate every department, only to be disappointed and find that after implementation, it is only really suitable for the Accounting Department.
Due to the simplistic, inflexible manufacturing functionality of most E.R.P software, the Engineering, Planning, Production and Quality departments are unable to use the manufacturing software and instead revert to using the same Excel spreadsheets they used before the E.R.P software was installed.
This is because ERP Manufacturing Software solutions often try to be a 'Jack of all Trades', take many months to implement, and are generically designed to try and fit a wide range of business types such as trading, warehousing, retail, distribution and service sectors, resulting in a lack of industry focus and compromised functionality.
Work-order Tracking & Visibility
In many high mix, low volume manufacturers, as soon as a Work-order job is released into production, it disappears into a manufacturing Black-Hole.
From there on, there is very poor visibility of job progress or status, and little or no feedback received until it finally emerges as a finished item.
And when a customer enquires about the status of their orders, often the only solution is to walk down to the production shop-floor, try to physically locate the job, and speak to the person who is working on it.
Pure Manufacturing enables you to not only view your production shop floor in real-time, but also to manage it from anywhere in the world using barcode or paperless, environmentally-friendly real time status tracking.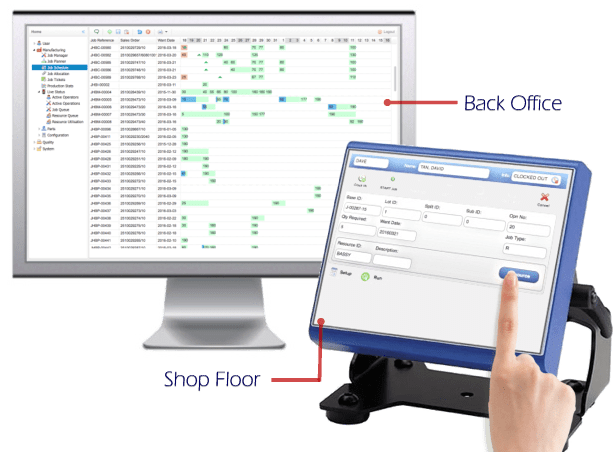 What is PURE Manufacturing M.E.S
Optimised for discrete High-Mix, Low-Volume; Jobshop; Manufacturing; Engineering and Service or Repair industries, PURE Manufacturing is a Industry 4.0 Manufacturing Execution System (M.E.S) designed not by software programmers, but by manufacturing professionals with decades of practical experience.
PURE Manufacturing M.E.S is available either cloud-based as a service or as an on-premise installation. It includes modules to Define, Plan, Track, Manage, Analyse and Report on the entire manufacturing process life cycle, providing live visibility and control over your entire manufacturing operations.
Desktop computers located on the manufacturing Shop-floor, dont tend to last very long, so we have two design approaches for the user interfaces in PURE Manufacturing: desktop PC or tablet browser-enabled applications that are used by Managers, Engineers and Planners in the back-office, and interactive, barcode and R.F.I.D enabled Rugged Touch Screen Kiosks used by operators on the production Shop-floor.
Real-Time information captured directly from Shop-floor operators is used to update & track the progress and status of every job as it progresses through each of its manufacturing processes either by human operators, or through I.O.T Embedded devices using both paperless and barcode options.
By feeding this live execution data back in a closed loop, our manufacturing software automatically updates the production plan so you can:
Embrace Industry 4 software in your manufacturing workplace.

Quickly visualise the progress, status and flow of each Work-order.

Improve manufacturing productivity, efficiency and machine utilisation.

Reduce queue times, lead time, costs and duplicate data entry.

Be alerted to exceptions using email messaging & reports.

Accurately quote new jobs based on historical data.

Reduce your Carbon Footprint with paperless manufacturing.

Eliminate your manufacturing black hole.

Track Employee Covid Vaccinations & Tests.

Become less reactive and more proactive.

Spend less time fire-fighting and more time manufacturing.
M.E.S Real Time Benefits
An open-loop production planning system such as those adopted by traditional E.R.P manufacturing software, is outdated immediately a new order is added, a customer order changes, or any work is performed on the processes, because they lack direct feedback with what is actually happening.
A closed-loop feedback software system that enables real-time, accurate measurement of the actual progress against the planned is therefore essential in optimising any process, project or activity.
The effects of any adjustments or productivity improvements are then easily seen and measured, and the ability to learn from this historical data helps you to effectively plan and optimise any future work.
Employee Covid Tracking
Track and manage your employee vaccinations, test results and quarrantine orders using the integrated Pure Vaxtrack Module.
Living with Covid requires amendments to the way we work, and the information that we need to track regarding Employees health and vaccination and infection history.
The Pure Vaxtrack module is fully integrated with other real-time modules to provide up to the minute tracking and alerts incluiding:
Employee Vaccination Requirements

Vaccination Dates, Type, Effective Dates

Test Types, Dates and Results

Quarantine Details

Work From Home Records
Improve Productivity Quickly
Pure Manufacturing cloud software is easy to understand, easy to implement and easy to use, you can have personnel adapted to it and fully using the system in just a few days, even if they have no previous experience with computerised manufacturing systems.
It will quickly help maximise your Efficiency, Machine Utilisation, Productivity and Throughput, enable you to embrace Industry 4.0, Lean Manufacturing and Continuous Improvement methodologies, and provide your SME business with a competitive edge by spending less time fire-fighting and more time productively manufacturing.
With our highly intuitive user interface, and a clear industry focus, full implementation is often achieved in a matter of days (instead of months as is the case with many solutions), allowing you to quickly see measurable results and experience a fast return on your investment (R.O.I).
Our Cloud Manufacturing Software is designed and developed in Singapore using cutting edge platforms, frameworks and technologies, and supports customisation of existing modules, as well as the integration of any custom current or future functionality you need.