SPEAK WITH US
Monday - Friday 9:00 to 18:00
Enquiries: +65 6778.8002
Support: +65 6778.6355

SEND US AN EMAIL
To arrange an evaluation, discussion or a live, interractive demonstration.
Please use our enquiry form
Defining a Workorder
Before planning or manufacturing execution can begin, you need to define the finished part in terms of What, How and When to manufacture using Pure Manufacturing's Job-Manager.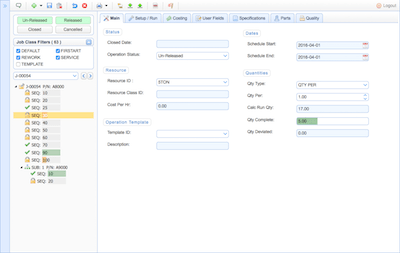 A graphical tree-like structure in the left panel defines the process routing (Bill Of Resources) and secondary process or sub-assemblies required to fully complete the Work-order.
Details for the selected process or sub-assembly are shown in the main panel which has several tabs grouping relevant information together.
The required qty, work centre, estimated setup and run times, work instructions, drawings, attachments and detailed specifications required for every process can either be cloned from a template or uniquely defined.
Real-Time Graphical Status
The progress completion status for each process is clearly shown by using a coloured status bar that stretches across each process tree branch.
Icons next to the process provides additional information about the status, such as whether it is released, completed, and, (if you are using Pure Quality), whether there are any open NCR's for that process.
Estimated and Actual Job Costing
Cost Estimates for individual processes are automatically calculated based upon the selected work-centre, the estimated setup and run times and associated materials.
Actual costs are automatically accrued in real-time as they occur, from production operator labour tickets and from raw materials issued to the job.
These costs can be viewed at any time and are rolled up into the work-order totals and can be used for quotation and further cost analysis.
Raw Materials
A Bill of Material (B.O.M) can be attached and issued to individual processes to be used for planning and also for controlling and recording the issue of both traceable and non-traceable raw materials to each process.
Job Classes
You can filter, track and report different Work-order types like First Article, Production, Repair, Development and Rework by using the Job-Classes feature.
These Job-Classes are user-definable, you can have as many as you like, each uses a unique auto-number profile with a variety of automated prefix and suffix options like the current year (-YY) or month (-MM).
Workorders and their Part IDs
Work-order Jobs may be either make-to-order or make-to-stock, manufactured with or without part numbers, and be created from scratch or cloned from an existing job definition.
If you manufacture your own products and your Part ID is based on a nomenclature, then the optional Part ID Generator module will allow you to predefine your part id and description structure. and the user then generates a new id based on the selection of parameters.
Jobshop (high-mix, low-volume) manufacturers, who may never receive repeat orders for the same item twice, are not forced to create a part number for every Work-order or sub-assembly, it is optional.
Alternatively, Work-order Templates allow entire repeat orders to be quickly and easily created, and Process Templates allow the adding of commonly used operations, all with just a couple of mouse-clicks.