Define a Work Order Job
Before planning or production can begin, it is necessary to define the work order in terms of what how and when to manufacture using Pure Manufacturing's Job-Manager.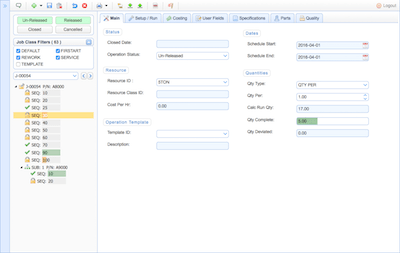 A graphical tree-like structure in the left panel defines the manufacturing process routing (B.O.R) and secondary process or sub-assemblies required to complete the work order.
Details for each selected operation or sub-assembly are shown in the main panel which has several tabs that groups relevant information together.
The required qty, work centre, estimated setup and run times, work instructions, drawings, attachments and detailed specifications required for every process can either be cloned from a template or uniquely defined.